Staff Highlight: Dustin Pead
Monday, November 30th 2015
"My most memorable moment at Friendship was Big Give Sunday to launch into the MOMENTUM Project. It was confirmation we as a church had made the right move."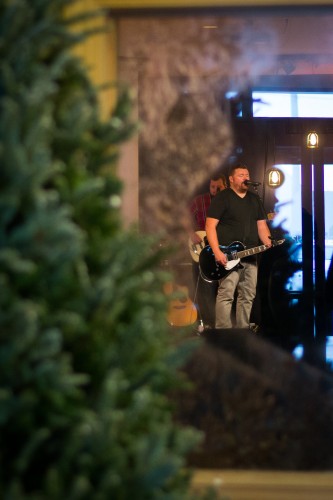 At Friendship we believe the Church is not a building, it's people, serving together to glorify God as an effective and influential church. So, each week, we'll highlight a volunteer or staff member who serves at Friendship, because our volunteers and staff make everything we do possible! We've asked each person some fun questions to help you get to know them better.
Every Sunday he and the Friendship Creative worship team lead us in musical worship. Today, we have the opportunity to get know Creative Arts Pastor Dustin Pead in our Staff Highlight.
Scroll down to learn more about Dustin.
---
Do you have any pets?
Yes, a pug named Chief.
What is your favorite holiday?
Christmas
Do you have any hobbies during your spare time?
Woodworking and a Decibel 317, a side project with Blake Behr specializing in lighting and interior design.
What is the last book you read?
Leaders Eat Last by Simon Sinek
What would be your dream vacation?
Two weeks traveling across Europe then a month at Cape Hatteras, NC
What is your favorite scripture?
Hebrews 12:12: So take a new grip with your tired hands and strengthen your weak knees.
Who inspires you the most?
Hard to name just one person but probably my wife, Sarah.
What has been your favorite Friendship series?
When Your Time Is Over
Can you speak more than one language?
Nope, barely speak English.
What is your favorite part of Sunday mornings at Friendship?
Hanging out with my team.