2018 // Make Way for a New MMQB
Monday, December 18th 2017
2018 // Make Way for a New MMQB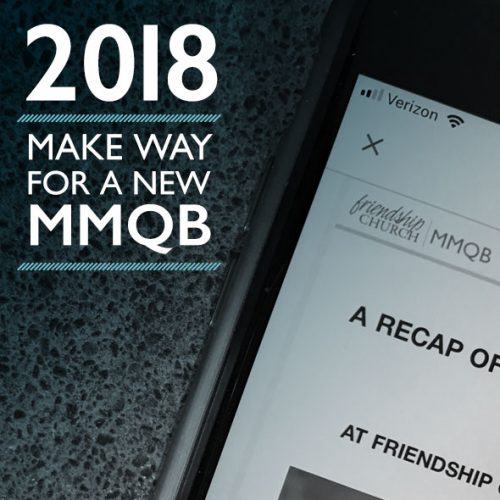 From the beginning, Friendship Church has always been committed to doing things the most effective way possible. In fact, we believe in it so much we made it a part of our vision: To glorify God as an EFFECTIVE and influential church! Remaining effective often means having a willingness, even an eagerness to change whenever necessary.
So, what's changing?
In 2018 the Monday Morning Quarterback email (MMQB) will start going out on the Monday after we wrap up a series at Friendship. Most of our series are 4-5 weeks long, so typically once a month. We will also be condensing the content of the MMQB to focus primarily on the content of the series just completed.
Now, some of you may be thinking, "but I love the MMQB, why change it?"
Well, the simple answer is to be more effective! The longer and more technical answer is that we've seen a pretty dramatic shift within our church and our community in regards to what and where people get their information online. So, we know we need to change to meet people where they are so that we can continue to encourage and equip you, and further connect the truth of Jesus Christ within our community.
The purpose of the MMQB has always been as a resource to help reinforce each Sunday experience at Friendship and enable you to live it out throughout the week, and that is not changing.
"What can I expect with the NEW MMQB?"
An email with direct video links to each message that you can watch at any time. (It's a great way to watch or re-watch each series and share it with your unchurched and de-churched friends and family!)
You'll receive the MMQB in your inbox the first Monday after a series ends.
"So, where will everything else go? Where can I find it?"
We're beyond excited to see what 2018 will bring for Friendship, and more importantly what God is going to do in each of your lives!
As always, we're thankful to partner with you as we glorify God as an effective and influential church!