Conquer 2016
Every year we get the resolution itch and decide that this year is going to be different. But, by the time February is in full swing we are back into our old rhythms, habits, and bad choices. So this year, instead of designing complicated plans that only address the symptoms, why not go after the root causes? During the month of January we are going to look at 5 things that cause so many of the problems that we each experience and want desperately to overcome. Join us for #Conquer2016 as we conquer fear, debt, dissatisfaction, worry, and the past.
#CONQUER2016
---
Conquer 2016 Smartphone & Desktop Wallpapers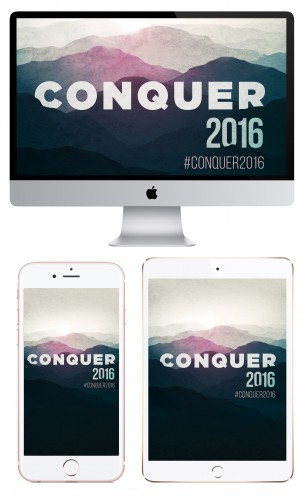 Need a reminder during the year to help you stay on track as you Conquer 2016?
Download these free wallpapers to your phone, tablet, or desktop!
CLICK HERE to download the Conquer 2016 iPhone Wallpaper 
CLICK HERE to download the Conquer 2016 iPad Wallpaper
CLICK HERE to download the 1920 X 1200 Conquer 2016 Desktop Wallpaper
CLICK HERE to download the 1680 X 1050 Conquer 2016 Desktop Wallpaper
CLICK HERE to download the 1520 X 1152 Conquer 2016 Desktop Wallpaper
CLICK HERE to download the 2560 X 1600 Conquer 2016 Desktop Wallpaper